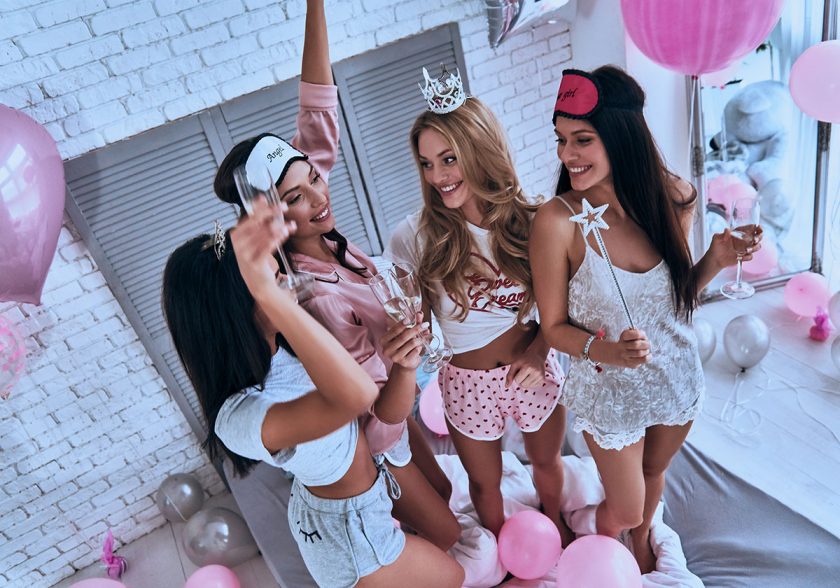 04.15.2020
(Stay in Your PJs.  I Got This.)
I've worked as an outsourced, virtual marketing babe from my home studio for just shy of 20 years. Almost half of my life has been dedicated to refining a model that works for the #hollaback girl kind of life I want to lead, while providing marketing and business ops strategy and support for my clients.
Amid this coronavirus pandemic clipping at a steady pace around us all, I thought I'd quick chat about the importance of scaling your business in a fractional way now and forever—with me snuggling by your side.
How can I help your business continue to grow, ebb and flow, and adjust to this new work environment we are faced with?
I'm admittedly allergic to Excel. But what the hell, let's get fractional.
Chief marketing officers (CMOs) must be cross-functional leaders who focus on driving your marketing to support your business growth without breaking the bank and squeezing your cashflow to death.
The challenge for so many businesses is that it is difficult to afford a top-notch CMO. She needs to have a turn-key marketing team to not only plan and implement the strategic marketing objectives for the business and brand, but to also handle the exorbitant amount of tactical day-to-day interrelations to get shit done.
And to boot she's a pro at the delegation of staff, vendors, contractors, and the wrangling of those junior marketers. That in and of itself is a good enough reason to outsource—wrangling.
Along with the day-to-day interrelations, CMOs are looked to for tactical execution and management of all relationships and agencies necessary to lead a successful marketing mission.
AND is looked to for a non-jaded approach to the brand and her spend.
"She's not jaded. Just rented."
Fueling your growth at a fraction of the rent.
One of the things that I absolutely LOVE about being an outsourced "partner in crime" is that time is valued as a commodity. Like OMG Becky, truly valued by my clients and vendor partners alike. And I value their time and budgets right back.
When considering outsourcing a CMO, think "renting" instead of "hiring" her. This contractual relationship is considered to have less of a long-term commitment associated with it. However, some of my clients have been with me for over a decade. So, what starts out as a short-term relationship could lead to one that is longer-term.
"Renting" her has a plethora of cost-saving benefits for your business. Some expenses can be trimmed if not eliminated in this kind of rented relationship. Here are a few examples of what will be reduced for a fraction of the price by renting!
Employee Benefits such as health insurance and 401k
Payroll Taxes
Relocation Expenses
On-site Training and Development
Office Space and Telecomm
Executive Recruitment Fees
Hiring more marketing support with less experience
Excessive travel
And more money to buy pjs.
Scale your marketing.
Waste not. Want not.
It's difficult to not waste money and time on marketing. With SO much being thrown at us every day, one of the most important things is gaining perspective on what is important to YOUR brand, YOUR clients and customers, and YOUR growth model.
In my opinion (IMO) one of the most pressing questions as a business owner, no matter the size, is do I need this many hands?
My philosophy has always been NO.
I run lean and efficient.
I run lean and effective.
I run lean and under budget.
I run lean and hot for your brand.
The whole "too many cooks in the kitchen" applies to EVERY aspect of our lives and the relationships we choose to foster within.
Be successful with less. It's a lesson that is appropriate for all our lives. We take too much. We want too much. And we have too much.
That doesn't mean that a successful, thriving business and enterprise isn't part of that philosophy. It's just a different view of how to approach the hands that support that growth.
The Social Media Time Suck.
Personally, I don't want to pay my team to mess around with Insta, Facebook, LinkedIn and Twitter all damn day. But the importance of those platforms in our sales and marketing is HUGE!
IMO, I simply don't think you need an entire social media team if your business doesn't need it. Social media "agencies" on average cost $5,000 a month PER social media account. Not to mention adding advertising spend plus analytics, which can quickly exceed between $4,000 and $7,000 on average according to top digital agencies.
Every social platform your brand leverages has a different length requirement. Social media is a total time suck and you need someone to manage to ensure that spend isn't astronomical. It is incredibly important that you scale the social marketing aspect of your business. You don't want a junior marketer messing around on their own accounts on YOUR dollar.
Renting a CMO helps manage your social spend and the people it takes to be strategic and effective for less money and less time sucked.
A business concierge at the heart of client management.
One of the things I have ALWAYS said to my clients and vendors "you be good at what you're good at and let me be good at what I'm good at. How can we fail?"
Not only does a successful CMO manage your budget, the people, the creative, all resources and relationships, but she also manages YOU! My clients are fortunate to have someone that is OCD to the max and operates as a project manager and point person for them.
She is a business concierge at the heart of client management with full capabilities to run a successful marketing operations strategy and team with little to no involvement of the client. This saves the client both time and money, while allowing them to stay laser focused on their business. leaving the dirty details to me!
F*ck high heels. Is showering optional?
No, silly. Don't turn into a slob for Buddha's sake! However, you do have full permission to put your PJs back on after that shower.
One of the things that is so important from a discipline perspective for working from home is feeling like you are successful before you even begin. I'm certainly not implying that you should be sitting at your desk at home in high heels but it's just amazing what a little mascara can do to boost your productivity.
With or without high heels on, I help steer a deadline centric and process-driven ship whose hull is built with a foundation of laughter and charisma sealed to weather any storm. Together, we can run lean not mean, but be forces to be reckoned with! Trim the sails already.
She's for rent.
Authored by Lyndsay Soprano (Just Lyndsay) of Bound-by Marketing

You can reach her at lyndsay@justlyndsay.com or lyndsay@boundbymarketing.com
Follow her on insta: @justcmolyndsay @boundbymarketing

References:

https://smallbiztrends.com/2016/09/social-media-marketing-budgets.html
https://310creative.com/fractional-cmo/
https://buffer.com/resources/social-media-strategy
https://www.stratgrow.com/marketing/how-long-does-it-take-to-create-quality-social-media-content/